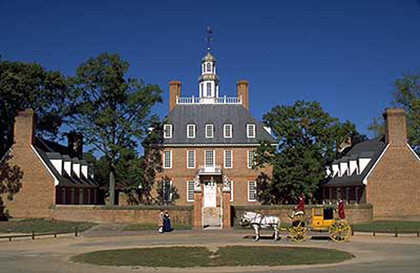 Governors Patrick Henry and Thomas Jefferson once lived in this Governor's Palace located in Williamsburg Virginia.
On November 11, 1779, while Jefferson was Governor and living in the Palace he issued a proclamation appointing "a day of publick and solemn thanksgiving and prayer to Almighty God, earnestly recommending to all the good people of this commonwealth, to set apart the said day for those purposes, and to the several Ministers of religion to meet their respective societies thereon, to assist them in their prayers, edify them with their discourses, and generally to perform the sacred duties of their function, proper for the occasion.
...for the continuance of his favor and protection to these United States;...that He would... spread the light of christian knowledge through the remotest corners of the earth;...That he would in mercy look down upon us, pardon all our sins, and receive us into his favour; and finally, that he would establish the independence of these United States upon the basis of religion and virtue, and support and protect them in the enjoyment of peace, liberty and safty."
The Parlor Room has 34 Scripture prints hanging on the walls. These drawings are of scenes from the life of Christ.